ACB Webinar facilitated by Abbott Diagnostics - The Integrated Care System & Laboratory Medicine
ACB Webinar facilitated by Abbott Diagnostics - The Integrated Care System & Laboratory Medicine
​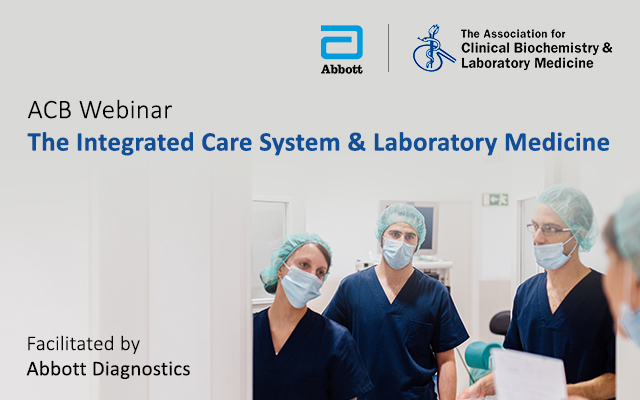 Members are invited to attend a facilitated webinar to hear from leaders in NHS laboratory medicine about the NHS England Integrated Care System collaborative working model.
This is an educational event for senior managers and emerging leaders in the NHS laboratory medicine community, covering such topics as:
What are the ICSs, how are they structured and how will they impact laboratory medicine?
Promoting the critical role of laboratory medicine in integrated patient care
Influencing decision making and funding decisions
Making diagnostics data work for your ICS's clinical priorities
Identifying opportunities to access transformation and innovation funds available to ICSs
You will also have to opportunity to table questions and discuss your own experience with your peers in a facilitated Q&A session.
Speakers:
Neil Anderson
Past President ACB
Consultant Clinical Biochemist, Clinical Director, Clinical Diagnostic Services, UHCW
Elaine Cloutman-Green
ACB Microbiology Professional Committee member
Consultant Clinical Scientist (Infection Control Doctor), Deputy Director of Infection Prevention and Control, Joint Trust Lead Healthcare Scientist, Great Ormond Street Hospital and Clinical Lecturer, Department of Civil, Environmental and Geomatic Engineering, University College London
Bruce Daniel
Head of Pathology, South West Region – NHS England
Previously Pathology Service Manager, Royal Cornwall Hospitals NHS Trust
Saghar Missaghian-Cully
Managing Director, North West London Pathology
Previously Regional Diagnostics Implementation Lead for Pathology & Imaging, NHS Improvement, and Managing Director, South West London Pathology
Chaired by Lisa Harrison, Marketing Director, Abbott Diagnostics ​